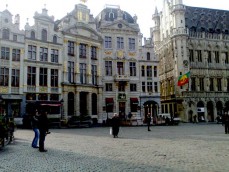 The International Association of Plant Bakeries was founded in Paris in 1956. At present, 15 national member organizations are affiliated to AIBI.
The association's headquarters have been set up in Brussels Grand Place since the beginning of 2011. The recent office move reflects the view of association members, that decision-making by the European institutions is of increasing importance to the plant bakery sector.
The markets for bread and pastry products have become more integrated over the years and the AIBI must take this development into account. AIBI holds contacts to key Members of the European Parliament and the European Commission services. The association's presence in Brussels also facilitates the collaboration with other chain partner associations located here. AIBI's key task is to represent its members' interests, especially vis-à-vis European and international institutions (EU Commission, European Council and European Parliament).
Janez Bojc is the current AIBI President. The Secretary General is Susanne Döring.
The AIBI's member information service includes the distribution of internal circulars (Information for members) on key issues for the plant bakery sector.